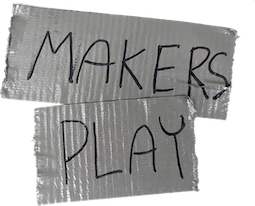 March 26-28, 2021
Makers Play is a hybrid virtual indie game and makerspace showcase born of passionate creators looking to interactively unite content with enthusiasts. Tune in March 2021 for indie games, alt control projects, maker workshops, Q&A, and more.
Follow us at @MakerSyndicate for updates and announcements to come.
Who We Are
Indie Maker Syndicate is a supergroup of creators and curators. With over 8 years of volunteer experience in the convention scene, we unite around the goal of helping game devs, interactive artists, and tinkerers share their passion projects with the world.
What We Do
IMS provides creators with a platform via Twitch streams and VR spaces. Our first major event will be the Makers Play Showcase, March 2021 on Twitch, with smaller streams before and after on twitch.tv/makersplay.
Stay in Touch
We'll be revealing more about our events, featured projects, and plans for the future.
Stay tuned: