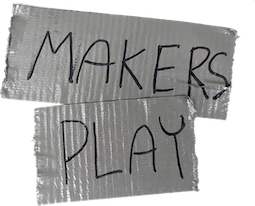 Digital Expo
Miss the in person aspect of conventions? Visit our free online spaces to see our games, meet makers, and play with other attendees.
Phobos Station
Demonic terrors are starting to take hold in the IMS Phobos Station on Mars. Jump on a shuttle to Mars, explore the Phobos Station, view projects, collect keys, and blast a demon or two.
Phobos Station is an IMS love letter to indies, makers, creators, and virtual hellscapes for the Makers Play event. We do hope you check it out. WebGL for modern desktop browsers:
VR Chat
Makers Play is in VRChat! Come watch panels virtually with your friends or check out the creative booths in the indie game developer showcase.
VR Chat can be joined from either your VR headset or a non-VR webview. Check out guide to learn how to get started in VR Chat, connect to our servers, and have a fun and safe experience in virtual reality.